Home We Sell Used Chillers Used Water-Cooled Chillers for Sale
50 Used Water-Cooled Chillers for Sale – Under One Roof
The Big Box of used water-cooled Chillers. Chillers are sold with Proof. Witness performance testing in our Live-Run Proving Lab to verify you are buying a truly good chiller.
Surplus Group specializes in lightly used surplus air-cooled and water-cooled chillers for industrial / commercial applications.
We produce only Proof-Based used water-cooled chillers certified in the most comprehensive and thorough chiller proving process in the industry.
Three Phases of Proof: Evaluation, Correction, Testing
The Surplus Group Proving Process of evaluation, correction and testing is housed in the 'factory' section of our purpose-built Big Box facility.
The process addresses all aspects of the chiller's overall condition culminating in a live load run to verify overall performance in our computerized Proving Lab.
Proof is seeing with your own eyes. Come and witness the live run yourself, send a technician or ask for the in-depth proof of performance video of the chiller of your choice.
Search Our Current Inventory
Our inventory is updated frequently. Check back often or call us directly.
Used and new surplus water-cooled chillers
Pre-owned and unused water-cooled chillers
New and used water-cooled coolers
Refurbished / reconditioned
Ice rink water-cooled chillers
Ice machines
Low temp water-cooled chillers
Water-cooled fluid chillers
High / low power water-cooled chillers
Process water-cooled chillers
Trailer mounted water-cooled chillers
Portable water-cooled chillers
Rental water-cooled chillers
Split system water-cooled chillers
Glycol water-cooled chillers
Refrigeration units
20 – 1800 tons
Screw compressor water-cooled chillers
Centrifugal compressor chillers
Oil less magnetic bearing water-cooled chillers
Condenserless chillers
Water-cooled chillers with VFD / VSD / AFD
Our Proving Performance Test-Lab is in Texas
Recently Sold Used Water-Cooled Chillers
Refurbished and Reconditioned Industrial Chillers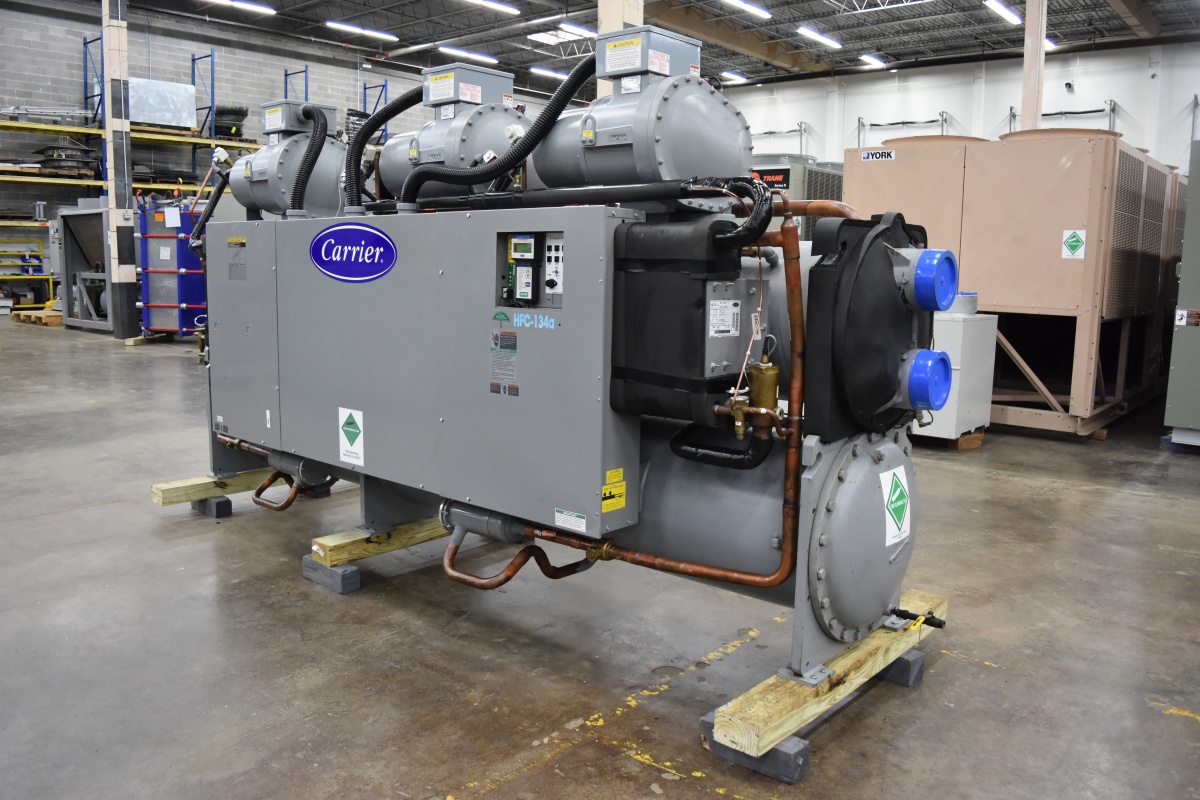 Surplus Group has a large selection of used pumps for sale ready for shipping in the USA and internationally.