Used Boilers for Sale
Home We Sell Used Chillers Used Boilers for Sale
Used Boilers
Raypak  |  Teledyne Laars  |  Cleaver Brooks  |  Ajax  |  Lochinvar
Surplus Group carries a wide variety of used boilers, steam boilers, low pressure steam boilers, hydronic boilers, and hot water boilers by top brand manufacturers including Raypak, Teledyne Laars, Cleaver Brooks, Ajax, Lochinvar and many more. All of our used inventory is tested, certified and ready-to-go. We ship in the USA and internationally.
Search Our Current Inventory
Our inventory is updated frequently. Check back often or call us directly.
Recently Sold Used Boilers
Refurbished and Reconditioned Industrial Boilers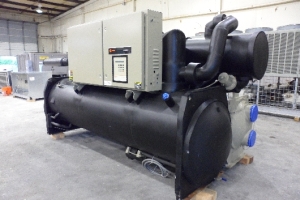 This used low pressure steam boiler is now heating an office building in Salt Lake City, UT (Utah)
See our used boilers »
This used low pressure steam boiler was removed from a warehouse in Nashville, TN (Tennessee)
See our used boilers »
This used steam boiler is now heating an apartment complex in San Francisco, CA (California)
See our used boilers »